Pay just one lower payment
Stop debt collector harassment
Get a fresh start without bankruptcy
Start Saving Today. Rates start as low as 5.99%.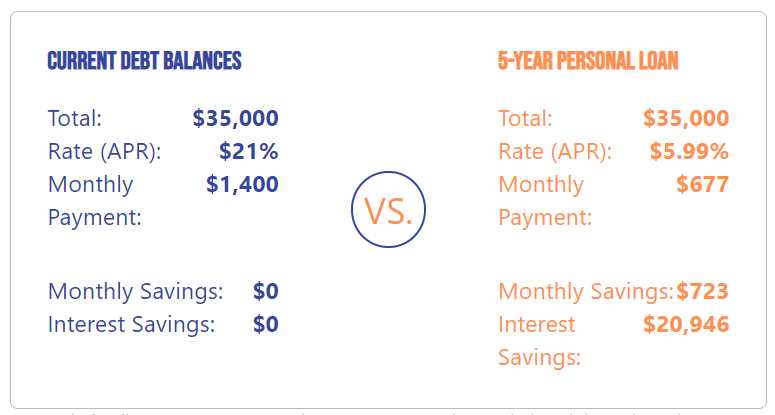 *Example for illustrative purposes only. Estimations used were deduced through Bankrate.com's loan consolidation calculator with minimum credit card payments of 4% of existing outstanding balances.
Get a fresh financial start with debt consolidation

Apply for up to $50,000 at a lower fixed rate
Pay off debt faster & more efficiently
Make one fixed monthly payment
Potentially save thousands per year
Take the First step to debt freedom

This website is owned and operated by Point Break Holdings LLC. Address: 304 S. Jones Blvd, Suite 5051, Las Vegas NV 98107 - A Nevada Series LLC.
Loans are offered by Point Break Holdings LLC dba Rebuildyourfinances.com affiliates. Kuber Financial, LLC dba Mobilend is an affiliate of Point Break Holdings LLC. Point Break Holdings LLC does not broker loans and does not make and/or fund any product offerings, loans, or credit decisions. This offer does not constitute an offer or solicitation to lend. The web platform will securely submit the information you provide to a lender. Providing your information on the web site does not guarantee approval for a product offering. For details, questions, or concerns regarding your application, please contact your lender directly.
© 2020 Rebuild Your Finances | All Rights Reserved.
Privacy Policy | Terms and Conditions | CCPA Privacy Notice | Do Not Sell My Info